Geochron's Digital Atlas 2 4K

One of the truly fun aspects of ham radio is customizing your shack. Will you fill it with shelves of vintage gear juxtaposed against the latest SDR rigs and a double-monitor computer setup? Will you cover the walls with favorite QSL cards, framed pictures from past Hamventions, and award certificates? Will you opt for a clean, no-nonsense spartan arrangement so there's nothing to distract you from the task of making rapid-fire QSOs?
The best part is there's no right or wrong answer regarding how you personalize your domain—as long as everything works when you turn on the power. Which leads us to today's gift suggestion, an amazingly useful and visually stunning shack enhancement that is sure to solicit plenty of oohs and aahs from visitors you welcome into your inner sanctum.
For more than five decades, the Geochron World Clock was one of the most coveted shack accessories—a mechanical marvel that displayed the sunrise and sunset of the Earth in real-time. While 30,000 were manufactured since production began in 1964, the mechanical clock remained financially out of reach for some operators. Enter the Geochron Digital Atlas 2 4K—a significantly more affordable version that, in the words of its creators, "takes the terrestrial beauty of our mechanical clocks into the digital realm in glittering 4K resolution…constantly evolving with more mapsets, layers, and live data than ever before."
Far beyond its visual appeal, the Digital Atlas provides hams with world-class tools and real-time data to excel on the air.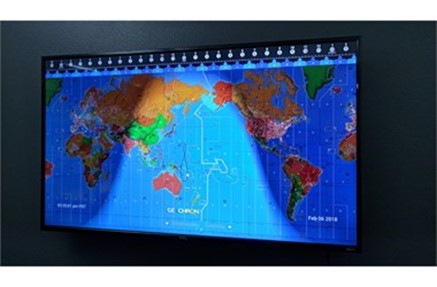 Setting it up is simple. The Geochron's micro-computer plugs into a 4K TV or monitor that you provide. The only limit on the size of the display is the size of your shack (envision the war room in Dr. Strangelove if you've got the space). Then connect the computer (it's small enough to be placed out of sight behind the display) wirelessly to the Internet via your Wi-Fi router to display the day-night gray line, night lights of cities, weather, travel routes, satellite tracking, and much more.
The latest version of the Digital Atlas comes with:
Faster quad-core Intel processor and more memory for better refresh rates
Improved Wi-Fi functionality
Faster menu operation
Updated case design that looks similar to commercial digital display units found in restaurants and airports
The Amateur Radio mapset features:
Display of the "Gray Line" (the band around the Earth separating daylight from darkness) in real-time—a huge benefit for optimizing long-distance communication
DX and International Prefixes
Country Names and Borders
Equatorial, Latitude and Longitude, and Tropic Points of Reference
Major Topographical Features
The Gray Line Against a Mercator Projection
The Analemma, Showing the Sun's Position at Relative Noon
The Month, Day, and Hour of Every Time Zone on Earth, Including Zulu Time
Through Geochron, you can add on a monthly/yearly subscription-based Ham Radio Premium Bundle that takes the Digital Atlas' functionality to a whole other level:
DX Cluster and Beacon Activity: Updated every 10 minutes, this feature lets you watch global DX and reverse beacon traffic by band for traffic in real-time.
Maximum Usable Frequency (MUF): Shows the highest frequency available using ionospheric skip propagation based on predictive models from the NOAA and the Lowell Global Ionospheric Radio Observatory.
AMSAT Satellites: Real-time location, elevation, and speed of linear and FM satellites with selectable line-of-sight footprint on the map.
Solar and Ionospheric Conditions: Screen displays solar-terrestrial data, HF and VHF open/close conditions, geomagnetic, solar flare, and aurora forecast.
ADIF Log, QRZ Sync, and Callsign: Lets you link to QRZ, upload your ADIF call log to display up to 1,000 historical contacts by band and history, and display your callsign on the map.
What do hams say?
Five Stars: "With a large 4K display this is a fantastic all-inclusive view of the state of the Earth as seen from the sun's direction. I added the ham radio suite (subscription service) which additionally shows ham satellites but also the MUF and spots if you use them. The solar flux and band conditions are in a side box with the current solar image. Their old mechanical Geochron was a visual delight but did about 1% of what this little dongle does. I have been totally impressed in the few months I have used it. It's accurate and changes the way one views both the world and time. Highly recommended."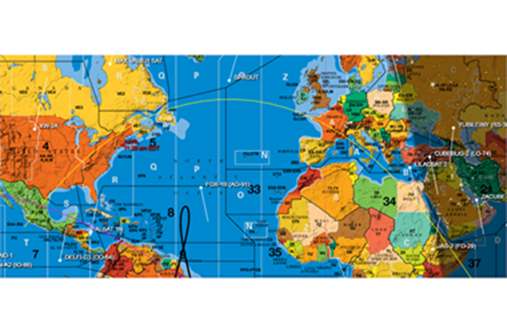 Other Real-Time Features include:
Continuously updating Global Satellite Weather Overlays: precipitation, wind speed, barometric pressure, temperature, cloud cover
Grayscale options for all mapsets for better live-layer visibility
Lifetime updates for five mapsets: Geopolitical with Human Points of Interest, Geopolitical with Oceanic Points of Interest, Topographical, Amateur Radio, Low Resolution (1080) Geopolitical
Live location of the International Space Station and over 100 satellites are updated every second
Static Overlays show:
Earth at Night
Major Shipping Routes
Major Flight Routes
Carbon Monoxide Pollution
Human Population
Digital Time Accuracy to within 500 milliseconds and on-the-fly time adjustments to local time zones
Simultaneous UTC with Local Time Readout
Automatic Night Dimming by Your Location
Along with the micro-computer, you receive a remote control with batteries, three-foot cord power supply (110-220 Vac USA Plug), one-foot HDMI cable, one-year warranty, and updates as available from user-supplied Internet service. For more details, visit DXEngineering.com.