Raise your hand if you fondly recall the days when raising or lowering a heavy vertical antenna was a multi-person job, fraught with dangers and, perhaps, accompanied by a spray of salty language.
We can see by the show of hands that you, like the folks at DX Engineering, are on the same page. It's the reason that DX Engineering has a long history of finding better, less back-breaking ways, to put up or take down antennas for maintenance, tuning, storage, or temporary protection against inclement weather.
In our last installment featuring legacy DX Engineering products, we looked at the SAF-T-TILT™ Base used on DX Engineering's popular 43 foot, 160 through 10 meter MBVE-5A Series HF Multi-Band Vertical Antennas and 80 through 10 meter Auto Tune versions.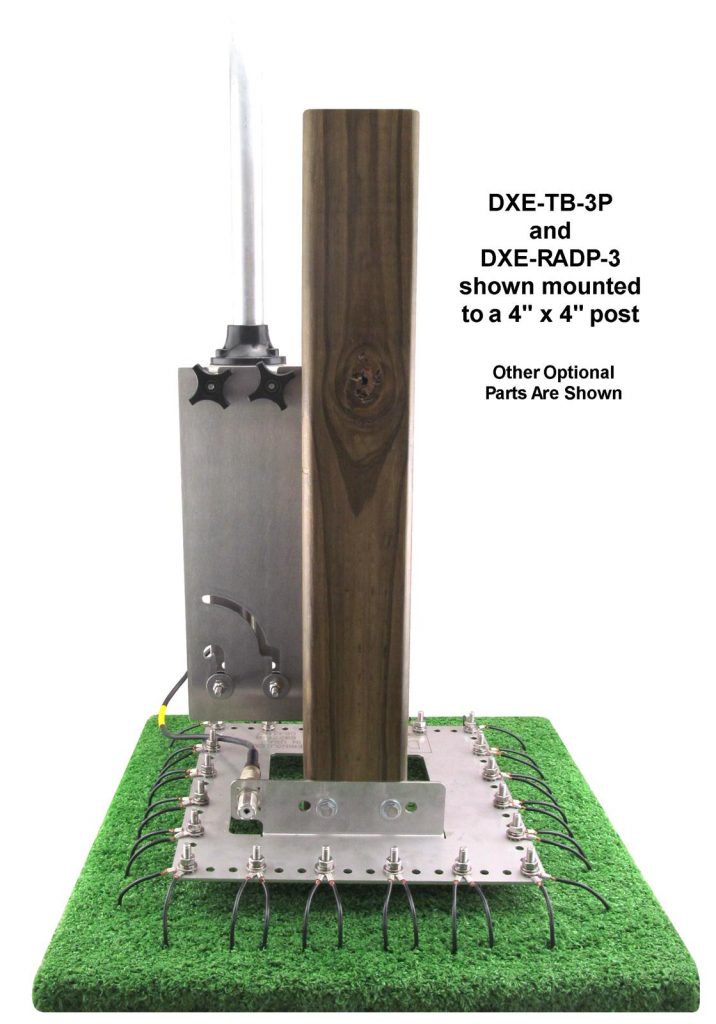 DX Engineering's other stainless steel Tilt Base Mounting System offers Hams a number of safety and time-saving advantages over rigid, non-tilting antenna bases. The system's unique mounting plate…
Enables a single operator to raise or lower the antenna in seconds while leaving the base of the antenna securely attached to the mounting plate and post
Eliminates the potentially dangerous task of climbing a ladder to perform maintenance, remove brackets from the support post, or lift the entire weight of the antenna to put it up or take it down
Prevents risk of injury from a falling antenna and reduces possibility of damage to equipment
Makes a good option for installations that need to accommodate CC&R
After installing the mounting plate, tilting the antenna is a simple four-step procedure:
Using a wrench or nut driver, loosen the bottom two Nyloc nuts and the top two flange nuts to allow proper movement of the tilt base while raising or lowering the antenna.
Lift to raise the top two bolts out of their channels.
Slide to engage the bottom bolt in the pivot point.
To tilt, one of the bottom bolts stays in the pivot point, the other follows the arced channel in the tilt base plate.
Check out this video which shows just how easy it is to use the DX Engineering Tilt Base Mounting System.
Features include:
Precision-cut mounting plate made from 3/16 inch 304 stainless steel
Stainless steel/stainless hardware
Convenient mounting to the same mast used for the antenna and radial plate
Typically ground mounted to a 2 inch maximum O.D. pipe with two optional SSVC-2P saddle clamps (see manual for full details)
For quick release, tool-less tilting, DX Engineering wing nut knobs can be installed on DXE-TB-3 or DXE-TB-4 tilt bases.

Choose from five versions:
DXE-TB-3P: For Hustler 4-, 5- or 6-BTV vertical antennas.
DXE-TB-4P: For DX Engineering vertical antennas: DXE-30VE-1, DXE-40-VE-1, and DXE-40VA-1. They may also be used with many other quarter-wave vertical antennas (up to 28 feet tall).
DXE-TB-6P: For Hy-Gain AV-14AVQ.

DXE-TB-7P: For COMTEK 30 Meter (COM-30VA) and 40 Meter (COM-40VA) vertical antennas.

DXE-TB-8P: For the COMTEK 20 Meter vertical antenna (COM-20VA) which may be tuned to resonate on one band, 20, 17, 15, 12, or 10 meters.
Also, check out DX Engineering's popular OMNI-TILT™ Vertical Antenna Tilt Bases.
What do Hams think?
"Well built, high quality, and an absolute necessity for those using a vertical. Makes tuning a snap and will save your antenna in windy conditions. First rate item."
"At 75 years old, I would not be able to set up and lower the antenna without this!"
"Game-changer! Super easy to drop my vertical for adjustments. Don't know how I did without one before."
"I have examined this plate and find the material and construction excellent. It will stand the test of time."