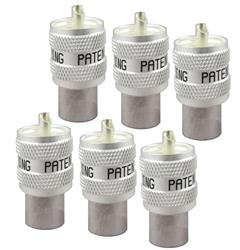 As a 20-plus years provider of amateur radio gear, one of the things that separates DX Engineering in the field is the company's commitment to building a better mousetrap, or should we say, a better balun, RF filter, thrust bearing, or whatever aspect of ham radio is in need of a minor tweak or a serious overhaul. The company's own team of engineers (each one an experienced ham) works every day to turn real-world amateur radio problems into breakthrough solutions that make putting together a competitive station and getting on the air a lot more enjoyable.
The long list of DX Engineering innovations includes the ISO-PLUS Ethernet RF Filter for suppressing EMI and common-mode RFI to and from Ethernet cables; Bead Choke Standoff Mounting Kits that maximize a choke's ability to curtain RFI by holding ferrite beads and coax away from booms and masts; easier-to-install Tower Accessory Shelves; and best-in-class Maxi-Core 20 Baluns and Feedline Chokes that dramatically improve your ability to hear and be heard.
Perhaps no DX Engineering product, though, has meant more to the ham radio community than its patented Next Generation Crimp/Solder PL-259 8U and 8X Male Connectors. These revolutionary connectors come installed on DX Engineering coaxial assemblies and are sold separately in packs for do-it-yourselfers, who continue to rave about the improved performance and ease of installation compared to old-school PL-259s that remained unchanged for decades. Here's what hams have to say about this revolutionary product:
Five Stars: "After having trouble maintaining a good connection with older style connectors, I've found that these are superior in every way. The Documentation Tab provided me with the guides I needed to install and crimp the connectors properly, over the braid, and then solder the center conductor. The guides indicated specific measurements, which I was able to achieve down to the thousandths of an inch using my digital calipers. All the pieces went together perfectly, leaving a quality connection with a professional appearance."
Five Stars: "These are EXCELLENT connectors and give the best combination of tight shield crimp continuity. It is made even better by the soldering of the center pin. I have had some PL-259s that end up with shorts between the shield and the center pin. THESE DON'T DO THAT. They work every time!"
Five Stars: "I have used other PL-259 connectors but no more, these are the ones from here on. The quality and finish are second to none and have a very friendly solderability."
Five Stars: "First time I have used DX Engineering PL 259s. Very high quality. And crimping and soldering the center pin is the way to go!"
Five Stars: "Easy, reliable, quality connector for jumpers in the shack and long Field Day runs. No more fussing with bad connector problems. I use a quality crimp tool kit like the DXE-UT-CRMP2 from DX Engineering."
Building a Better Connector
Like many innovations, the genesis of the Next Generation Crimp/Solder Connectors began with a simple observation: Studies confirmed that the best RF connections for double-shielded cables are made by crimping the shield, not soldering.
The problem: Most PL-259 crimped center pins aren't large enough and don't have enough contact area, which affects reliability.
The solution: Design a connector that has a full length and full diameter soldered center pin so it connects properly, even with worn SO-239s.
The result: These connectors achieve exceptional RF performance and power handling with these features:
All silver-plated brass shell and body
Silver-plated center pin securely mounted in PTFE dielectric
Center pin accepts large conductors
Scalloped-tip allows generous solder flow
Crimped shield connection provides maximum reliability for all cables
Deep, double-knurled threaded shells for secure finger-tightening
DXE-PL259CS8U fits all RG-8U size cables with center conductors up to 10 AWG, including DXE-400MAX and LMR-400 as well as RG-213U, RG-11U and many others (e.g., Belden 7810A, 8214, 8267 and 8237, 9913 and 9913F7)
DXE-PL259CS8X fits all standard RG-8X size cables including DXE-8X, LMR-240 as well as RG-59, RG-62 and many others (e.g., Belden 9258, 8241, 1505, and 7808 series)
These strong and lightweight connectors are available in packages of 6, 12, or 24. For more details, customer reviews, suggested DX Engineering coaxial cable stripping tools, connector crimping tools, soldering irons and wire, and documentation, visit DXEngineering.com.
If you'd prefer to have your connectors pre-installed, choose from these two convenient options:
Premade cable assemblies in a variety of types and lengths (3 feet to 200 feet), with DX Engineering's Next Generation Crimp/Solder 8U or 8X PL-259 connectors installed on both ends or BNC male ends in some cases.
Made to spec (type of cable, connectors on both ends, length) using the online DX Engineering Custom Cable Builder at DXEngineering.com. Choose from Next Generation PL-259 Crimp/Solder, N Male, N Female, SO-239 (UHF Female), and PL-259 Amphenol 83-1SP connectors.