Alinco has a long history of making high-performance, battle-tested handheld radios, so the announcement of a new rig being added to its already impressive lineup is a cause for celebration—or at least a serious look at what makes it unique. In the case of the DJ-MD5XTG, there's a lot to talk about.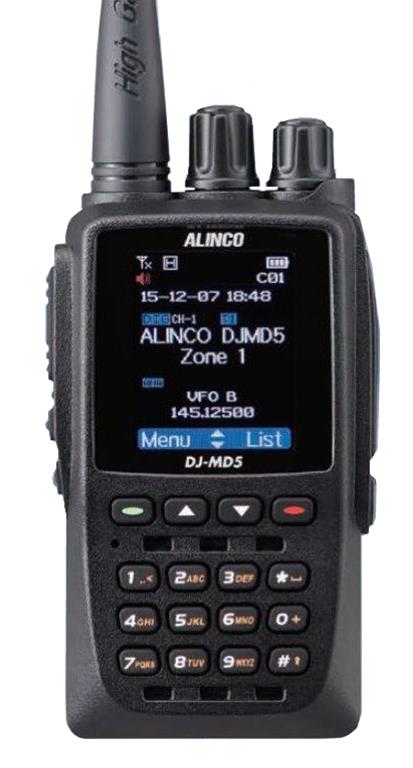 The Alinco DJ-MD5XTG Advanced VHF/UHF Dual-Band DMR Part 90 Handheld Transceiver with built-in GPS adds APRS support and Auto Repeater Roaming to its existing lineup of handhelds. Other features include:
Compact and durable splash- and dust-resistant IP54-rated polycarbonate body
Updated features such as large full-color LCD display
5/2.5/1.0/0.2W selectable output power
Up to 4,000 memory channels
Tier I and Tier II DMR two-slot TDMA technology
FM Broadcast receive
Built-in VOX
Digital voice recorder and mixed mode capability; operates in digital and analog in VFO or memory mode
The DJ-MD5XTG utilizes DVSI's AMBE+2 vocoder for crystal clear DMR digital audio for use in noisy environments like construction sites, parks, security applications, or for your favorite repeater's coverage area, with no noise or fading, even in low-lying areas. It features reliable audio output power to ensure loud, crisp receive audio. This model transmits and receives GPS coordinates automatically and displays distances between you and other users.
Digital Mode features:
10,000 Talk Groups; 250 Radio IDs; 160,000 Contact Lists
Displays the Caller ID and name
32 preset encryption codes
Selective calls including Individual, Group, or All
Digital Monitor function to receive signals without matching ID or color codes
Analog mode features:
CTCSS/DCS/DTMF/2-TONE/5-TONE encode and decode
Four diff­erent Tone-Burst tones
Programmable Auto Repeater Shift (VFO)
What do Hams think?
"Great audio quality on both TX and RX; APRS; excellent, durable construction, very solid; small, lightweight design, nice to throw into a pocket; battery performance is excellent for my use."