To trace the origins of the Beverage antenna, you'll need to hop in the way-back machine and set the dial to 1921, the year Harold Henry "Bev" Beverage (October 4, 1893 – January 27, 1993) patented this still-popular antenna known for its directivity and impressive bandwidth compared with resonant antennas.
Born in North Haven, Maine, Mr. Beverage made significant contributions in the field of radio engineering throughout his life, earning numerous honors and a place in the hearts of Ham Radio enthusiasts who recognize him as the father of the wave antenna, so called because the RF current traveling along the wire moves in the same direction as the radio waves.
While requiring ample space to set up (you'll need plenty of wire for HF and longwave operation), Beverage's eponymous innovation has been a standard piece of equipment used by Amateur Radio operators, shortwave listeners, military communication specialists, and longwave DXers. As we count down the months to the 100th anniversary of this seminal antenna's birth, let's all raise a "beverage" of choice in honor of this Ham Radio pioneer.
What is a Beverage system?
A Beverage system is a long-wire receiving antenna consisting of a horizontal wire hung close to the ground and pointed in the direction of the desired signal. The feedline to the receiver is attached to one end of the wire and the other end is terminated through a resistor to the ground.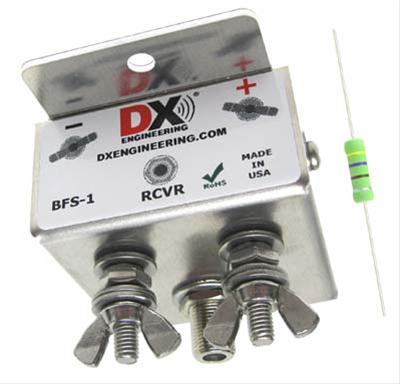 Almost a century after its creation, you'll still hear the name Beverage on a daily basis in the halls and offices of DX Engineering, where a number of Beverage systems and components are available, including single-wire, single-direction Beverage feed systems, Beverage termination resistors, and Beverage wire/ladder line supports.
DX Engineering's Reversible Beverage System (DXE-RBSA-1P) allows two Beverage antennas to be switched to receive in opposite directions while sharing the same physical space. They provide two opposite "end-fire" directional patterns with excellent front-to-rear directivity and superior signal-to-noise ratio as compared to transmitting antennas.
By installing anywhere from 350 to 800 feet of wire (depending on your desired band), you can pull out weaker long-distance signals on medium wave and the 160, 80, and 40 bands, including shortwave, using receive-only beverage antennas. The W8JI design consists of a DXE-RBSA-1FP Feed Point System and a DXE-RBS-1RT Reflection Transformer.
Features and benefits include:
The two-direction system offers space and installation advantages because two opposite single-wire Beverage antennas would require twice the length.
You can operate and even confirm the F/R ratio at any time from the operating position.
The system is immune to strong signal overload and core saturation common in multi-transmitter contesting environments.
You can build a 4-direction receive antenna system with two DXE-RBSA-1P Reversible Beverage Systems and one DX Engineering RLS-2 Two-Port Receiving Switch that also requires only one feedline. The optional DX Engineering Feedline Voltage Coupler (DXE-FVC-1) is recommended to provide all of the required feedline voltage injection. Plus, the optional DXE-EC-4 BCD Control Console completes the system for four-direction switching right in the shack.
The DXE-RBSA-1P has two 75Ω antenna ports that use type F connectors. This allows the use of DX Engineering DXE-F6-CTL/1000 high quality, low loss F-6 flooded coaxial cable as the feedline.
Applying negative 10 to 18 Vdc (or AC) to the feedline reverses the direction of reception. For simultaneous reception from opposing directions, feedlines from both ports can be connected to separate receivers. Having both feed lines available at the operating position also allows the use of a noise-canceling device.
While the DXE-RBSA-1P is optimized to use DXE-LL-450-5C multi-strand copper 16 gauge 450Ω ladder line for the antenna element, the system will work with any 300-600Ω two-wire line.
The DXE-RBSA-1P chassis is custom made from stainless steel and has a special UV-resistant cover.

Additional parts you'll need for your Reversible Beverage System include supports and insulators, ground rods, feedline, antenna wire, and power supply—all available from DX Engineering. Also from DX Engineering is the Reversible Beverage Antenna System Combo, which includes a reflection transformer, feed point unit, and RPA-2 Modular Receive Preamplifier. The DX Engineering Reversible Beverage System Feed Point Unit Tilt Base, which allows up to 90 degrees of tilting, is designed for easy access to the connections on the two-direction reversible Beverage antenna system.
For complete specifications, installation instructions, configuration diagrams, and more, take a moment to browse the system's owner manual. For operators facing space limitations, check out DX Engineering's Receive Four-Square Array System and Receive 8 Circle Array Package.


What do Hams think?
Five Stars: "Like everything else I have purchased from DX Engineering, which has been manufactured by DX Engineering, this Reversible Beverage System is of industrial quality. No skimping out of ruggedness or quality of components. I have NEVER had to return anything to DX Engineering because of quality control issues or damage from poor packaging. This beverage system has worked to my expectations from the first time I installed it."