Editor's Note: Every month, DX Engineering features QSL cards from our team members' personal collections. To highlight upcoming DXpeditions, we'll be displaying a few of our favorite cards along with details about what it took to make these contacts. We're excited to share some of the special cards pulled from the thousands we've received over the years. We look forward to seeing your cards as well!
The Dodecanese Islands QRV in September
Two DXpeditions are running simultaneously from the Dodecanese Islands (IOTA EU-001) in September: HB9OAU as SV5/HB9OAU will be operating from Karpathos Island I until September 16, and DL2AAZ as SV5/DL2AAZ will be QRV from Rhodes Island until September 19. As of August, the Dodecanese, a group of 15 larger and 150 smaller Greek islands, was ranked as the 251st Most Wanted DXCC Entity per Clublog.am
You can reach HB9OAU's holiday-style operation on 80-10M SSB, RTTY, and FT8. DL2AAZ will also be operating holiday-style on 40-10M SSB and CW. In addition, DL2AAZ will be working the QO-100 (Qatar Oscar 100) amateur radio satellite. Launched in November 2018 as a joint project between the Qatar Satellite Company, the Qatar Amateur Radio Society, and AMSAT Deutschland, QO-100 was the first geostationary satellite equipped with amateur radio transponders. While the satellite's primary function is to broadcast television to the Middle East, its two transponders (one NarrowBand and one WideBand) make it an exciting operating venture for hams located at stations from Brazil to Thailand.
About the Dodecanese Islands
Located in the southeastern Aegean Sea and Eastern Mediterranean, the Dodecanese (population 200,500) includes these larger islands: Agathonisi, Astypalaia, Halki, Kalymnos, Karpathos, Kasos, Kastellorizo, Kos, Leipsoi, Leros, Nisyros, Patmos, Rhodes, Symi, and Tilos. More than half of the island group's population can be found on Rhodes, the largest in the chain (540 square miles) and the site where once stood the Colossus of Rhodes, one of the Seven Wonders of the Ancient World. The colossus, a statue of the Greek sun god Helios, is said to have measured as tall as the Statue of Liberty. It was collapsed by an earthquake in 226 BC and completely destroyed by conquering forces in 653. The exact location of the statue on the island remains a topic of great debate to this day as planners discuss erecting a modern-day version.
By contrast, Halki is the smallest inhabited island (11 square miles) in the Dodecanese. It has a permanent population of 330.
QSL Cards
Here are a few of the QSL cards from the Dodecanese Islands collected by the active operators at DX Engineering over the years.
Tom, KB8UUZ, DX Engineering technical writer, contacted SV5BYR on 10M SSB in September 2011.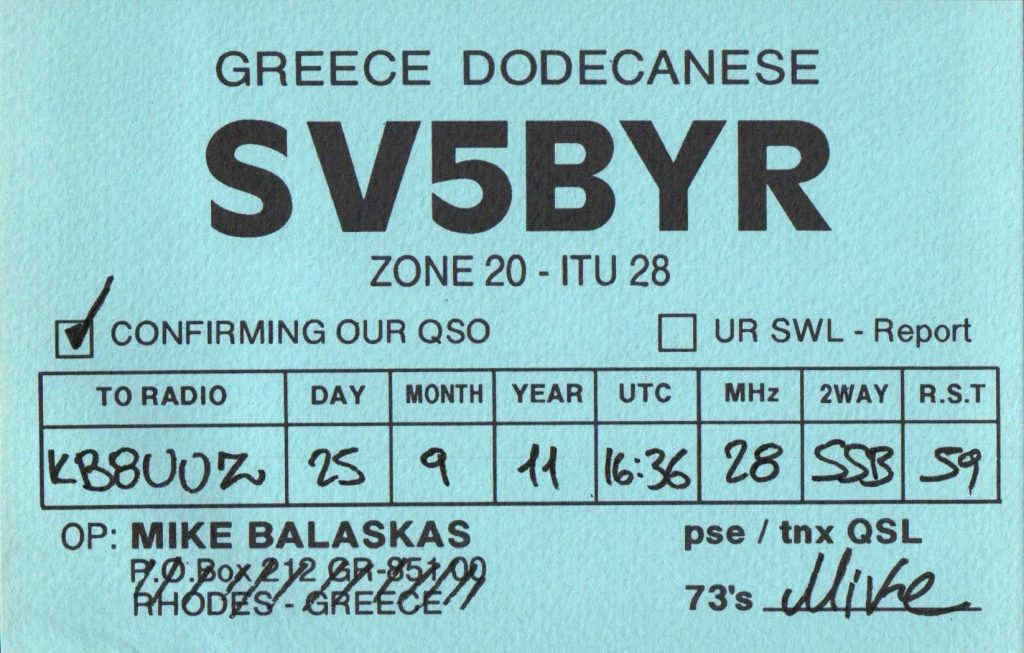 Dave, N8NB, produced three Dodecanese QSL cards from his collection: SV5-DJ7RJ from Kos Island (March 2007, 80M CW); SV5BYR (October 2012, 10M SSB); and SV5AZP (August 2011, 12M SSB). Kos is the third largest by area and the second most populated (33,400 inhabitants) of the Dodecanese. It is believed that the "Father of Medicine" and author of the Hippocratic Oath, the Greek physician Hippocrates, was born on the island. A museum dedicated to him can be found on Kos.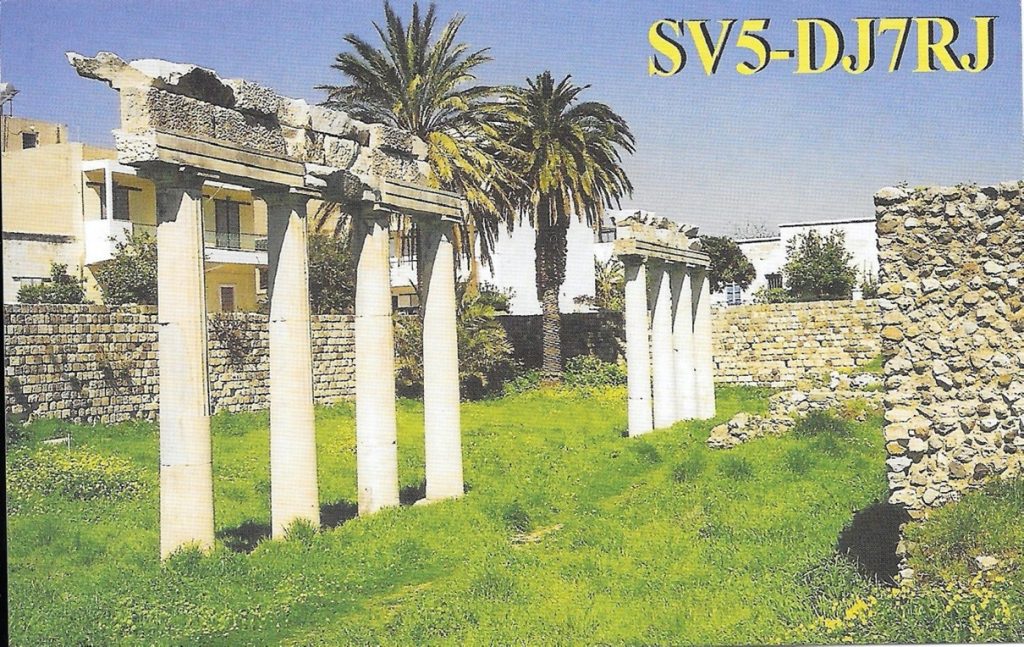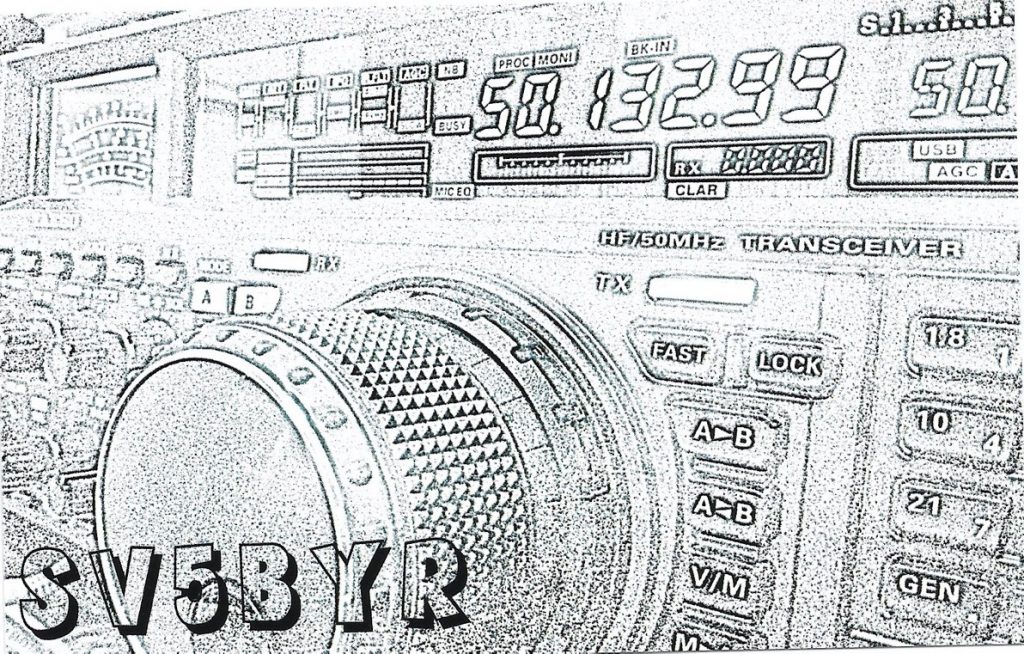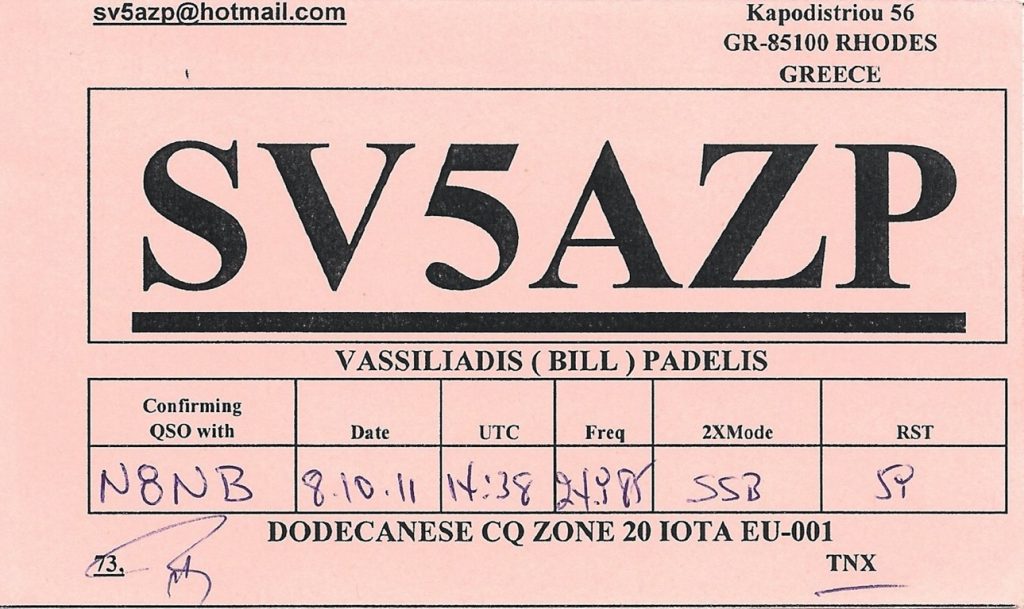 David, K8DV, DX Engineering customer/technical support specialist, contacted SX5P in October 2008 on 20M SSB.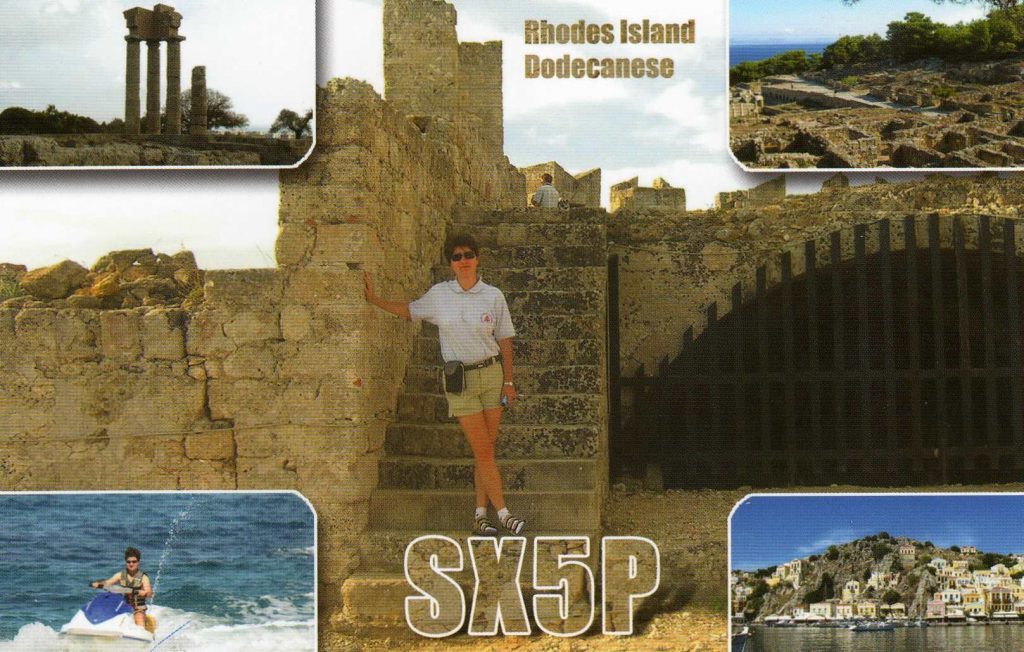 Want to upgrade your DXing capabilities? The Elmers at DX Engineering are here to lend an ear. Reach out to them at Elmer@DXEngineering.com. Find everything you need at DXEngineering.com to up your game, including transceivers, antennas, amplifiers, headsets, and more.