For over a century, hams have exchanged QSL cards to confirm two-way contacts between each other. Originally used to facilitate technical details about a station's qualities, over time they morphed into a courtesy and a means to collect operating awards. They also became more standardized. Some are spectacularly beautiful; many hams have a collection of prized QSL cards showcasing significant contacts in their ham radio career.
I'm an active ham, so I receive plenty of QSL cards. It is relatively common to receive QSL cards from newer hams who have filled out the QSL incorrectly or left off critical pieces of data. In this blog, we'll go over the basics of QSL design, how to fill them out, and a bit of etiquette when requesting a QSL from another ham.
QSL Design
Technically, you can make a QSL out of anything you wish. I've had QSLs written out on a potato and a Styrofoam cup. Of course, these may be a bit difficult to pass along to the awards checker if you're planning on using them to earn an operating award.
While there's no rule on the physical size and layout of a QSL card, in the U.S. and many other countries, they have morphed into a standard size: 5.5″ x 3.5″(140 x 89 mm). That size works well with U.S. envelopes. QSL cards can be as plain or as fancy as you wish, printed on one side or both sides with photos or artwork on them. More basic designs simply have the station's callsign along with the important information to confirm the contact. You can design your own card from scratch or use any one of the dozens of QSL printers online; search the internet for "QSL Printers." Most QSL shops have very basic cards available for reasonable prices or can help you with a custom design. You can also design and print your own if you prefer a DIY approach.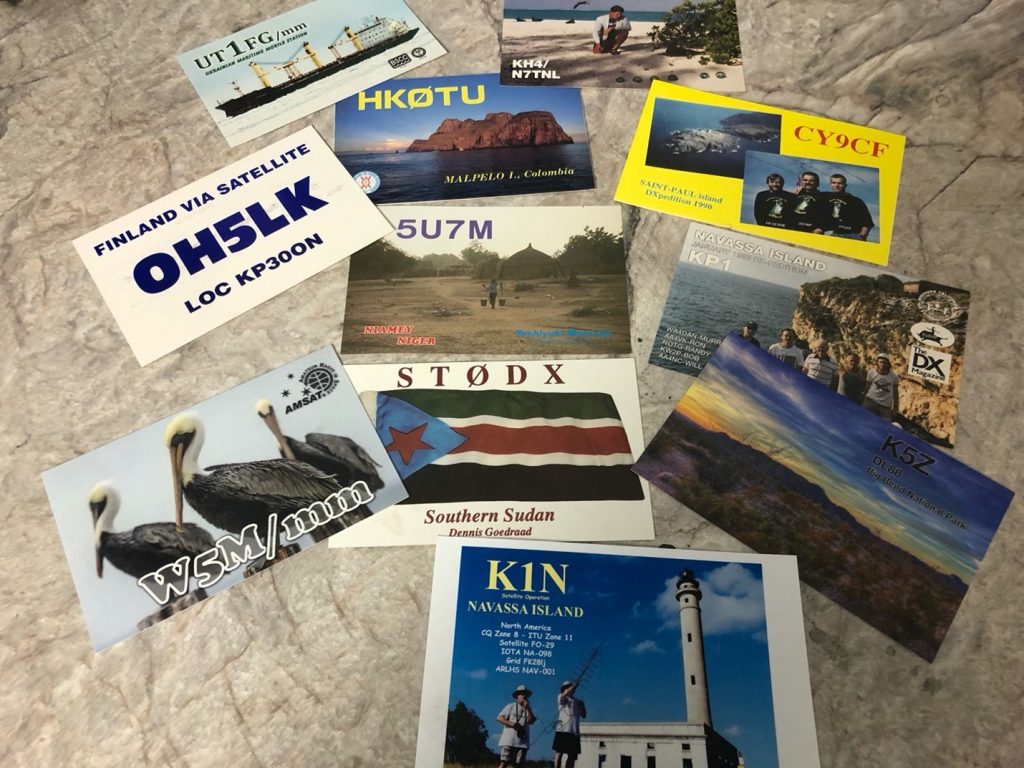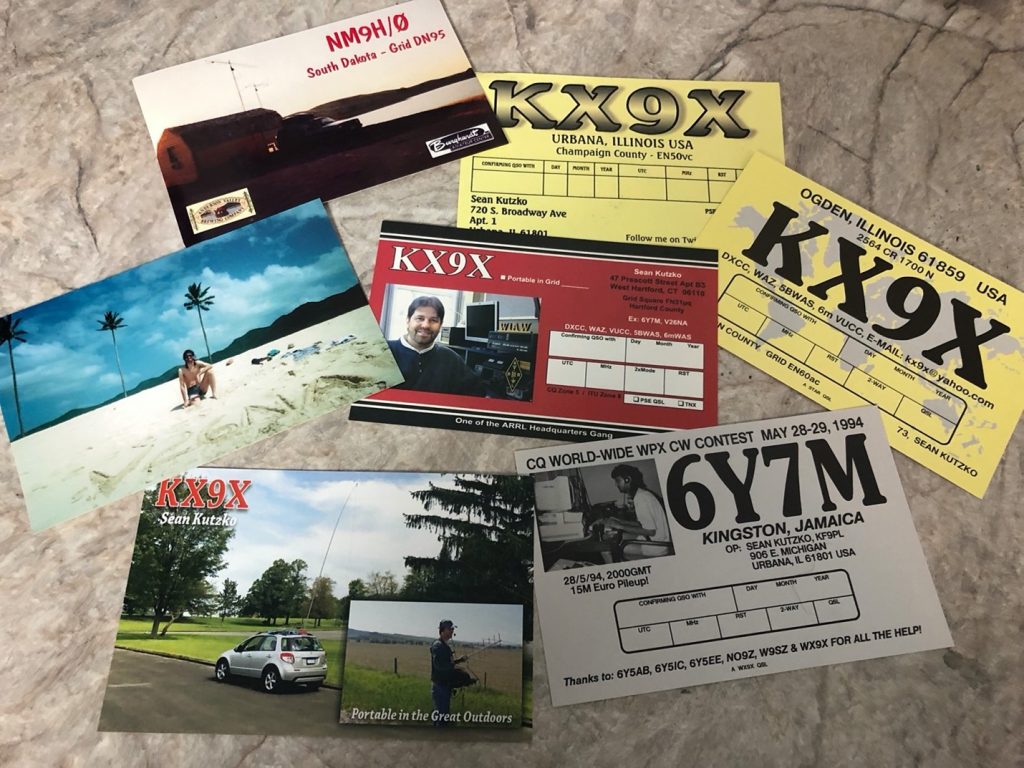 QSL Card Data
All QSL cards should contain basic information about yourself:
Your callsign
Name and postal address, including your country
Detailed geographic information such as your CQ Zone, 4-digit grid square, or (if in the U.S.) your county
A nice added touch is your email address (I have my Twitter account on my QSL card)
Optional text can include your transceiver and antenna, the amount of power you transmitted with, and a PSE QSL and TNX QSL box to indicate if you are asking for a QSL or replying to a QSL request.
In addition, the QSO data window should have the following fields to ensure the QSL can be used for awards:
"Confirming QSO with": This is where you put the call of the station you made a contact with.
Date: While most people in the U.S. use the Month-Day-Year format, other countries use the Day-Month-Year format. Others have moved to a Year-Month-Day format. Here's how the three formats look for August 9, 2021:
Month-Day-Year: 8/9/2021 or 08-09-2021
Day-Month-Year: 9/8/2021 or 09-08-2021
Year-Month-Day: 2021/8/9 or 2021-08-09
Numbers lower than 12 can be confusing in any format you are using, especially to an international audience. Having separate boxes for year, month, and day can help get around this issue. Another approach I've seen on cards outside the U.S. is to use Roman numerals for the month; August 9, 2021 becomes 09-VIII-2021.
Time: Time on your QSL card should ALWAYS be listed in UTC. If you aren't logging and filling out QSL cards in UTC, get an app or a clock that shows both UTC and local time to help you with the conversion. Remember that the date moves forward when the UTC clock goes from 2359 to 0000.
Frequency or Band: You can either list the frequency or band the contact took place on. If you use frequency, you do not necessarily have to list the exact frequency where the contact occurred. For example, if you worked a station on 28.400 MHz, you could either write "28.400" or simply "28" to indicate the frequency. If you choose to do band in our example, list the band as "10m." I like to add an "m" for meters after the band. Simply writing "10" could mean the contact took place on either 10 meters or 10 MHz (30 meters), so it's a good addition.
2-Way Mode: List the mode in which the contact took place. "2-way" is important; it tells awards checkers that the contact is legitimate because QSO data was passed both ways. It may seem archaic now, but it's still a good practice.
RST: List the RST report for the contact. SSB uses two numbers (e.g., 59) while CW uses three numbers (e.g., 599). The third number is for "Tone," which is not relevant for an SSB contact. If using FT8, list the signal strength report you sent during the QSO, such as -5 or +10.
When filling out your card, you can either write it out by hand, print the info using an address label, or even print directly to the card. If you choose to write on the QSL by hand, be sure to print legibly; remember, somebody may be reading your handwriting later when checking the card for an award. If you make a mistake, tear up the card and start again using a fresh card. Scratched-out data on a QSL may be interpreted as an attempt to alter the data on the card and will not be accepted for awards. Use a ballpoint pen; pencils can be erased and felt-tip pens can smear.
Be sure to sign the QSL card. If using a QSL label, sign the card so some of your signature is on both the card and the label. Some operators use a rubber stamp and stamp the card, making sure to get some of the stamp on the card and some on the label. This helps indicate the label on the card is genuine and hasn't been tampered with.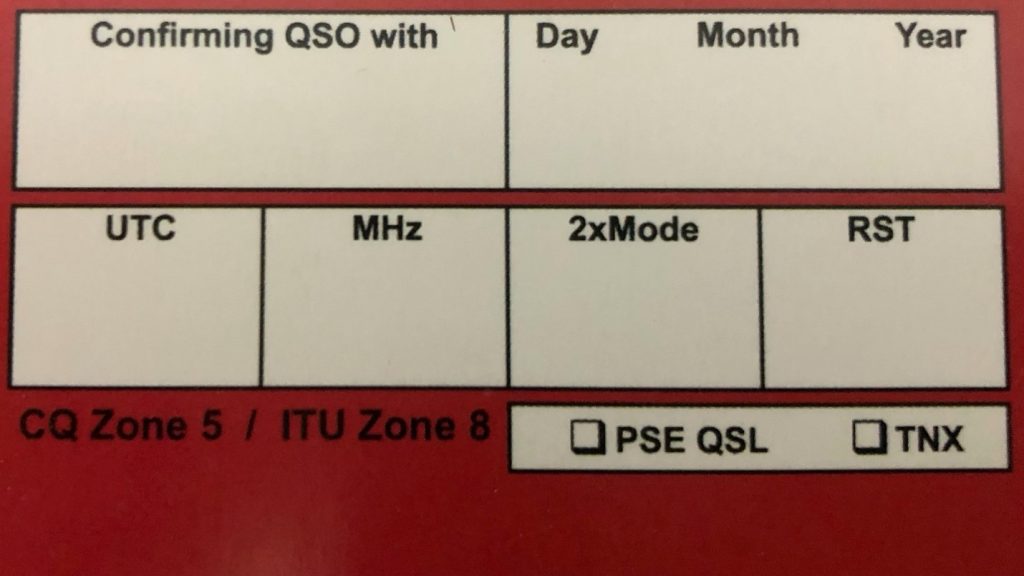 QSL Etiquette

There is an old saying that the final courtesy of a QSO is a QSL. While this may be true, it has run up against the limits of practicality in the 21st century. Today, it is good practice to pay for getting the QSL you request back to you. Be sure to include a self-addressed stamped envelope (SASE) with proper postage affixed to it to get the QSL mailed to you. This makes it easy for the station to fill out a card and mail it back with minimal effort.
Some hams don't mind sending QSLs back for every card received and will send your SASE back. Others, such as stations who are quite active and fill out a lot of QSLs, will appreciate your consideration.
Is it really too much trouble for that station you worked to just fill out a QSL card for you and pop it in the mail? Try to put yourself in the position of the other station. If they are in a rare location, such as a juicy DX country or a rare state or county, they may get multiple requests for cards a week. Most rare stations would rather be on the air than spending time filling out QSL cards. In addition, a little expense for a single card becomes a much bigger expense if dozens or even hundreds of requests are received. Postal rates around the world can be quite expensive, and even here in the U.S. the costs of QSLing can add up quickly. Bottom line: If getting a QSL from a station you worked is very important to you, give that ham a break and pay for the cost of getting it mailed back to you.
International QSLing
If you're requesting a QSL card from a station in another country, the best thing to do is to look them up on QRZ.com and see if they list their QSL instructions. While not every ham will list that information on QRZ, it is a great place to start.
U.S. stamps will not work in other countries, so you will need to come up with another way to pay for getting that QSL card back to you. Most of the time, you can mail U.S. dollars to cover the cost of an airmail letter back to you. The exact cost will vary from country to country, but generally $2 or $3 will cover it. Keep in mind that possession of foreign hard currency is illegal in a few countries, so do your homework first to ensure that you won't get anybody in trouble by sending cash.
Of course, currency will provide a tempting target for mail thieves. There are a few tricks you can do when sending dollars in a QSL request:
Use security envelopes when sending your QSL request.
Don't put callsigns in the address area of the envelope.
Use new currency. Fresh bills won't have any folds or wrinkles in them and will be a bit flatter.
The U.S. Postal Service provides free "Air Mail" stickers. Use them to seal the envelope to add a bit of deterrence to would-be casual thieves. Of course, a couple of stickers won't slow down determined thieves.
Some stations now offer the ability to send QSL postage via online payment services such as Paypal or Venmo. This is a great option if available. Check on QRZ or other DX news sources to see what a specific station's QSL requirements are.
While many hams are now pursuing online confirmations, such as through ARRL's Logbook of The World, QRZ, or eQSL, there will always be a place for QSL cards in the world of ham radio. It's good practice to have QSLs on hand and know how to properly fill them out and request them from others.
Do you have tips on QSLing? Share them in the comments below or email me at kx9x@yahoo.com.