As we slowly progress into sunspot Cycle 25, we know that band conditions will still be unsettled for the next few years. In previous posts, OnAllBands has covered a variety of HF antennas that can help you maximize your signal–the first, best step in making more contacts. A second step is to add a linear amplifier to complement an effective antenna.
Today we'll be exploring a new addition to DX Engineering's selection of linear amplifiers, the RF-KIT RF2K-S Silent Series Solid State 1,500 Watt Linear Amplifier. It will deliver the stable, efficient punch you need to get your signals through loud and clear on 160 through 6 meters.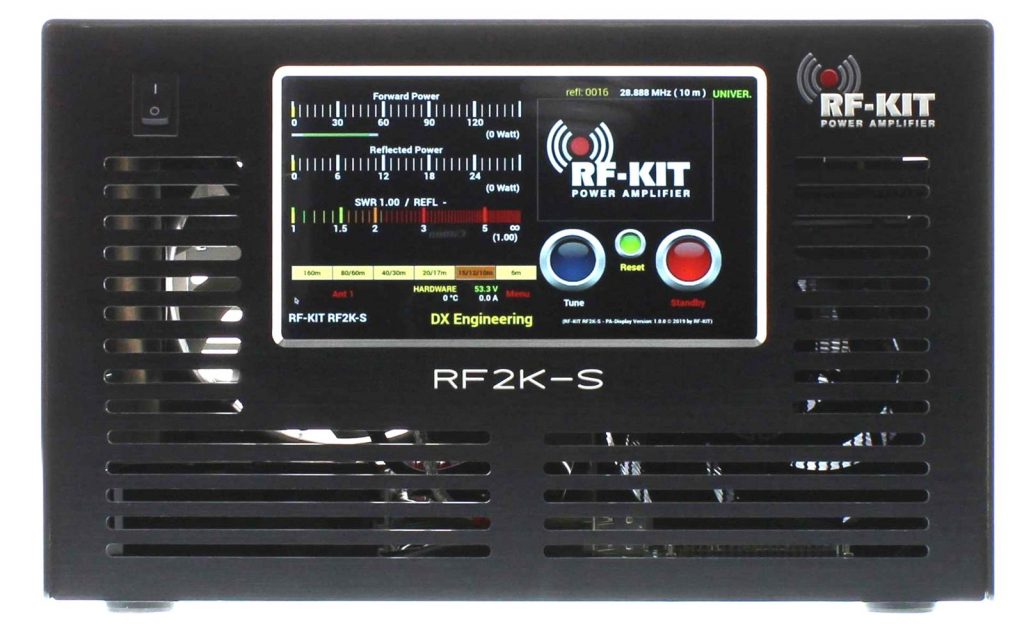 Kit Lite
In this case, kit does not necessarily mean that you get multiple bags of individual parts that require dozens of solder connections or major hardware assembly work. The kit arrives as a nearly finished device. To make it an operational amplifier, you need to install the included Raspberry® Pi 4 Model B, download the operating system to a micro SD card, connect some cables, and make some reasonably simple adjustments. Check out the assembly manual on the DX Engineering site for details.
No special tools are necessary for this build—just some screwdrivers, soldering iron, DVM, RF power meter, dummy load, PL-259 patch cables, and a transceiver.
Run Silent, Run Cool
Typically, a PA cooling system should be designed to keep the device case temperature in the range of 70-80º C (158-176º F) at 25º C (77º F) ambient temperature, for a 30-minute SSB voice transmission or a 5- to 10-minute key-down CW transmission at rated output. These are minimal duty cycle values for a solid-state amplifier used for amateur radio.
Maintaining these numbers for a legal limit amp requires some large heat sinks and multiple fans. The RF2K-S Linear Amplifier uses a massive heat sink for the RF deck, a total of five speed-controlled low-noise fans, and pin diode TX/RX switching for flawless QSK and extra quiet operation. Front and back panels are louvered to improve airflow.
An internal switching power supply supports operation from 90 to 290 Vac. With a nominal RF input of 55W, this amplifier produces 800W output running on 110-120 Vac and 1,500 watts out running on 230-240 Vac.
On the RF deck, you'll find a pair of BLF189XRB LDMOS finals. These industrial-grade devices have excellent thermal stability and are engineered to withstand high mismatch (SWR) at the output. Pulsed power ratings are 1,900W for each, allowing them to loaf along at 1,500W while providing plenty of extra headroom.
Color Display
The first thing you'll notice about the amplifier is the seven-inch front panel color touch screen, controlled by an internal Raspberry Pi 4 Model B. It's packed with the information you want and need to know about the amp's operation in a clear, colorful format.
Users can monitor forward and reflected power as well as SWR readings with the horizontal indicators and numeric displays. An internal tuner helps compensate for the difference in the feedline impedance versus the near 50 ohm impedance expected by the amplifier. The tuner control is quite flexible, allowing you to change the position of the capacitor L-network, manually adjust inductance and capacitance, set the autotune/memory/reset functions, or bypass the tuner entirely.
Display buttons activate the menu, allowing switching among four antennas as well as operating the tune and standby functions. A lowpass filter indicator shows the band(s) currently active, detected by an auto RF sense feature. Temperature and voltage readings confirm the RF2K-S is functioning within normal operating parameters.
Amp Evolution
The RF2K-S includes advanced features, such as a predistortion output for newer transceivers equipped with this option. It provides a way to operate amplifiers efficiently while improving linearity and minimizing spurious emissions. Digital predistortion changes the signal before it is amplified, producing a cleaner output signal.
Worried about your amplifier becoming outdated? The RF2K-S evolution continues with periodic updates (see planned updates below). Additional upgrades will come periodically based on customer need and suggestions from the RF2K-S user group. Adding the newest updates/features is done through the amplifier connections to your network. The device will grow more capable with continuing downloadable updates.
RF-KIT RF2K-S Amplifier Specifications and Features
Frequency Range: 1.8-30 MHz and 50-54 MHz
RF Power Output: 1,500W CW/SSB 160-10 meters, 1,100W 6 meters
RF Input Drive Level: 55W all bands (U.S. Version)
Dual LDMOS devices rated at 3400+ Watts
Efficiency: approximately 72%, varies by band
Very silent operation with speed-controlled low-noise fans and pin diode TX/RX switching
Transmit-Receive transfer time: < 5mS
Internal Automatic Antenna Tuner with unlimited memories
7-inch Color Touch Screen
Excellent signal quality
Predistortion output -55 dB for transceivers equipped with this feature
Auto RF Sense Band Selection
YAESU® Band Data Interfaces
YAESU BCD Band data output for external devices
CAT Connectivity through USB
CAT data through IP (UDP)
LAN Connectivity
Quiet Internal Power Supply, Input Range 90-290 Vac
Full power 1,500W on 230 Vac; 800W output at 110 Vac
Power Meter Range: 1W through 3KW
Software Update via Internet
Remote Power On with +12 Vdc
RF Connectors: 1 x SO-239 Transceiver, 4 x SO-239 Antennas 1-4
Dimensions WHD: 12.205 x 7.480 16.732 inches (310 x 190 x 425mm)
Weight: 35.2 lbs. (16kg)
Future Software Updates
Multiple user-selectable displays
Wi-Fi Connectivity (host and client mode)
Remote Internet operation via PC, tablet, or cell phone; supports Windows Android, Linux, Apple IOS, others
Author's Rating: Five Stars
Top of the line. Some assembly is required but this amp/tuner is automatic after you get it up and running. It was worth the wait.